SOCIAL MEDIA
My cup runneth over - kueh kosui my friend's mom made, and the OCD keropok she fries, and which I love. Thank you ML!
It's always a good time for pencai, especially when it's from Shang Palace. Thanks, @shangrilasg for the special celebration #greatmeal #pencai #celebratewithfood #foodgasm #foodporn #foodstagram #igfood #igfoodie #foodcritic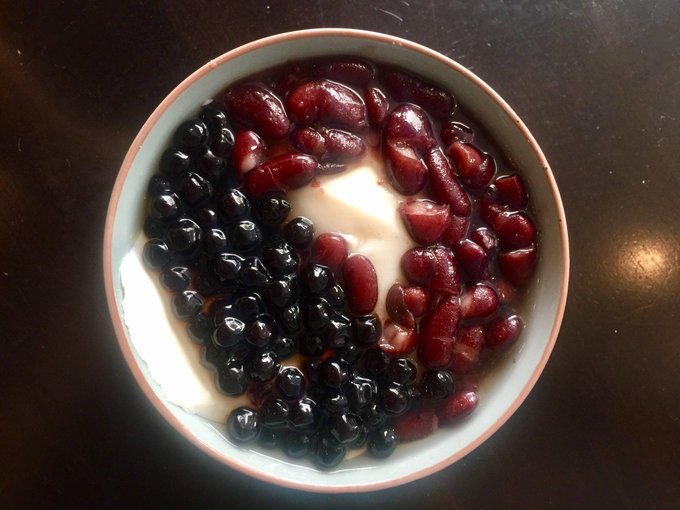 Cooling off with tau huay topped with red beans and pearls. Head to Bean House at Sunshine Place for some homemade goodness.
#cheapandgood
#straitstimesfood
#stfoodtrending
#foodie
#desserts
#supportlocal
#sgfood
t.co/4sneRatjPm
Tori katsu set meal at home. Marinated XL-size boneless chicken legs overnight. Marinade: Cooking sake, mirin, salt, white pepper and garlic bashed into a paste. Just before frying, dredge in potato starch, beaten egg and panko. Just enough oil to cover chicken half way. Pan-fried on low heat. Iberico pork collar in miso soup. For the soup base, I used the chicken bones removed from the chicken legs and one large pork bone boiled on high heat to extract all that collagen goodness. Also kelp, bonito flakes, little bit of ginger and garlic. After hours of boiling, filter and add miso. Just before serving, throw in the iberico, diced tofu and sliced leek. For the iberico, I marinated it in cooking sake, finely minced ginger, sesame oil and a little shoyu. Japanese potato salad made using red skinned potatoes which are boiled whole with skins on for 40 minutes. Use a cloth to peel the potatoes and add them to chopped white onion. Mash and mixed with kewpie! Blanched shredded carrots. Cucumber - sliced and salted then squeezed to remove excess moisture for extra crunch. Lightly seasoned with moshio. A little mixed vegetables. Top with tobiko just before serving. A little drizzle of Japanese Worcestershire sauce is extra nice. Homemade pickles, store-bought pickles and tamagoyaki. Cooked uonuma rice with kelp and threw in a Japanese sweet potato. 1 rice cup Uonuma rice to 1.25 rice cup water yields my preferred texture. See my torikatsu dabao set at the end. . . . #torikatsu #japanesefood #chickencutlet #friedchicken #panfried #japanesemeal #potatosalad #misosoup #iberico #porkcollar #bonebroth #tobiko #licktheplate #homecooking #homecooked #weekendmeals #stayhomecooking #saturdayvibes #hedykhoo #sgfood #igfood #igsg #straitstimesfood
RECIPES
SWIG
RESOURCES