(DAWN/ASIA NEWS NETWORK) - If you're like me and doubt yourself every time you're about to throw away any part of a perfectly beautiful fruit or vegetable, take a seat and keep reading.
The perfectly fresh peel taken off bananas, the mountain of green-and-white rind left behind after cutting away the pink flesh of watermelon, the jug full of carrot pulp after a session of juicing, the fragrant peel of oranges… the list goes on.
It just doesn't feel right to dump this so-called waste in the bin, with the hope that it will be transformed into fertiliser by the earth or that some stray animal will find nourishment in it. Also, it is not unusual for the peel, rind or skin to contain just as much — if not more — nutrients than the fruit or vegetable itself. So why are we throwing away perfectly edible stuff?
Since I never take the peel off apples and cucumbers, and cook most vegetables (potatoes, sweet potatoes, ginger, carrots, turnips and zucchini) with their skin on, it took only a bit of investigating and experimenting to find delicious ways to further cut down food wastage.
Here are recipes for an easy-peasy cheesecake made with carrot pulp, yummy banana peel chutney that originated in Bengal, and a zesty Moroccan-inspired watermelon rind pickle. There is also candied orange peel, which can be eaten as is or added to cakes and muffins for a delicious hint of citrusy flavour. All the recipes are simple, quick to make and easy on the wallet.
---
WATERMELON RIND PICKLE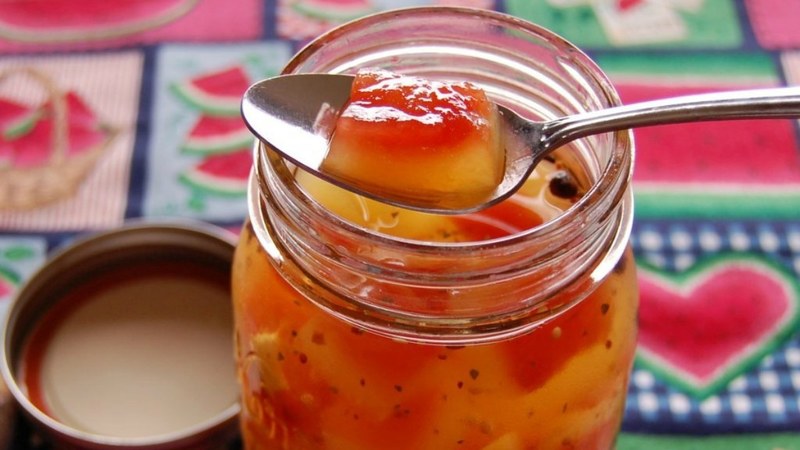 INGREDIENTS
8 cups sliced and peeled watermelon rind, cut into 2.5cm pieces
6 cups water
1 cup salt
4 cups sugar
2 cups white vinegar
2 7.5cm cinnamon sticks
1 tsp cloves
1 tsp black peppercorns
METHOD
Place the rind in a large bowl; stir in water and salt. Refrigerate for several hours or overnight. Rinse and drain well.
In a pot, mix sugar, vinegar, cinnamon sticks, cloves and black peppercorns. Bring to a boil. Add rind and return to a boil. Reduce heat; simmer uncovered for 10 minutes or until the rind is tender. Discard cinnamon sticks.
Carefully divide hot mixture into sterilised jars, leaving at least 1.2cm space on top. Remove air bubbles, then screw on lids tightly. Wait about two weeks before eating.
---
CARROT PULP CHEESECAKE
INGREDIENTS
3 cups carrot pulp
½ cup sugar
225g block cream cheese, softened
2 Tbsp olive oil
4 large eggs
½ cup milk
1 tsp ginger powder
2 tsp ground cinnamon
½ tsp ground cardamom
2 tsp baking powder
METHOD
Preheat oven to 190 deg C. Measure the carrot pulp by pressing into a cup measure.
In a large mixing bowl, cream together sugar, cream cheese and olive oil. Add eggs and beat well. Add carrot pulp, milk and spices and beat well. Add baking powder.
Lightly butter the bottom and sides of a 23cm pan, then pour in the batter. Put the pan in the oven. Bake for 15 minutes. Turn down the heat to 160 deg C and bake for another 30 minutes or until the surface is golden brown and a knife inserted in the centre comes out clean. The centre will be soft, not springy, when pressed on.
Cool on the counter, then chill in the fridge for at least two hours before serving.
---
BANANA PEEL CHUTNEY
INGREDIENTS
Peel of 5 bananas
½ tsp mustard seeds
1 Tbsp vegetable oil
Red pepper flakes, to taste
4 cloves garlic
1 small onion, chopped
1 small green chilli, chopped
1 Tbsp ground turmeric
1 banana, chopped
Salt, to taste
METHOD
Boil the peel for 15 minutes. Drain and chop into small pieces.
Saute mustard seeds in oil until they start to pop. Add the red pepper flakes, garlic and onion and continue to saute until golden brown. Add the chilli and banana peel and cook for three more minutes. Add turmeric, chopped banana and salt and cook for five minutes.
Put the mixture into a blender and blend just until combined. The chutney should be lumpy.
---
CANDIED ORANGE PEEL
INGREDIENTS
Peel of 2 large oranges
4 cups sugar
3 cups water
METHOD
Cut the peel of each orange (white pith included) into 6mm strips. Cook in a large pot of boiling water for 15 minutes; drain, rinse and drain again.
Bring three cups sugar mixed with

three

 cups water to a boil in a medium-sized pot over medium heat, stirring often to dissolve the sugar. Add peel. Return to a boil. Reduce heat; simmer for about 30 minutes until the peel is very soft, then drain. Toss the peel in one cup sugar, separating the strips.
Lay strips on baking sheet or a tray and let stand until dry, about one to two days.